Tsega Orcuit lives in the United States of America and works in the University of Minnesota Physicians as a Movement Disorders Nurse Practitioner.  Through her job, Tsega knows how difficult it is to live with Parkinson's disease. But she could not fathom the magnitude of challenge patient's face when Parkinson's disease is coupled with Poverty especially in third world country like Ethiopia. We met Tsega through a friend via e-mail. After we were introduced, we explained what the life of Parkinson patients in Ethiopia is and all the challenges we face. She easily understood our pain and expressed her interest to work with us to improve the lives of poor Parkinson's patients. In addition to her generous financial support, for which we are very grateful for,  she convinced others to donate to us and facilitated the donation by sending  it through Global  Giving. On Global Giving's website we had posted about one of our projects and asked people to help us with it. It is simple, fast and totally secure. Any interested person can use Global Giving to help. Once people donate to our cause they will send the donation directly to the PPSO-E account.  So it is actually the most efficient way to donate.  In 2018 through Tsega's effort, we had managed to raise more than 6,000 US dollars and we distributed that amount to poor Parkinson patients to help with drug purchase & walking sticks.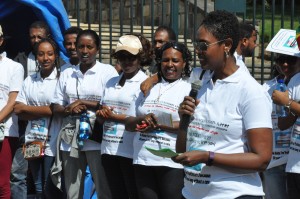 Tsega has attended the 2017 Parkinson's awareness raising walk that was organized in Addis Ababa.  She made a speech and answer questions raised by participants.  She has also planned to join us in the upcoming Parkinson's walk to be held on April 14, 2018.
We would like to thank Tsega for all the love and support she has shown us since we met. Her support has made quite an impact on the lives of Parkinson's patients and highly motivated our organization as well.