Membership Experience
At the start of our association, the fear of stigmatization, lack of awareness, and social and economic problems had prevented patients from coming forward and registering, but due to our effort in raising awareness the association has been able to register several new patients as members.  To register, please send an email to parkinsonassociation11@gmail.com
Patient to Patient Interaction (Experience Sharing):
Our association brings members together to share their experience with each other.  Our members has express their appreciation for having a platform to share their experience of living with the disease with each other.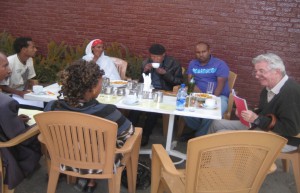 Image above: The first meeting of the  founders of PPA-E at Ghione Hotel 2011 discussion for the establishment of the association
Training:
Our organization provides training about Parkinson's disease and how to manage it twice per quarter in a small setting of 15-20 members per session. We are giving training, not only for the patients but also for caregivers, journalists and other concerned bodies.
Images above: Training for health journalists
Financial and Medicine Support
Our organization also provide financial drug support to Parkinson patients  that are extremely poor and  have difficulty on covering their medical expenses.
In addition to the above mentioned activities, great work is being done Public Awareness and Consultation regarding Parkinson's Disease.