The meeting and lunch ceremony was organized on April 28. Its main objective was to create awareness and to form a network among stakeholders. Patients, Care givers, journalists and invited guests were present in the meeting.
The objective were to introduce and motivate members with the current year motto "Be strong"
Mrs. Kibra Kebede, the Founder and chief advisor of the Executive Director of PPSO-E presented the year motto for the celebration world Parkinson awareness month. The leading Parkinson awareness motto is Be Strong to fight back Parkinson.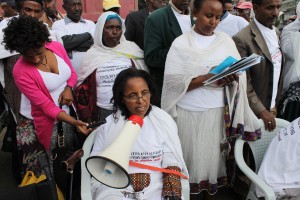 She stated that we already know Parkinson is a progressive disease and also that there is no cure for Parkinson. But there is always a way to minimize the time it will reach the highest stage. In order to minimize the state of progression the patients need to be strong in fighting back Parkinson. The purpose for fighting is to delay the progression of Parkinson. After a brief explanation on the need for coming together a discussion was started. The discussion was focused on the day to day manifestations of Parkinson disease, the symptoms and the strength needed to return to normal.
After the discussion lunch ceremony was conducted. Finally dress and sewing cost was handed over to
Women patients and a coat and trouser was handed over to men for a total 32 women and men patients.